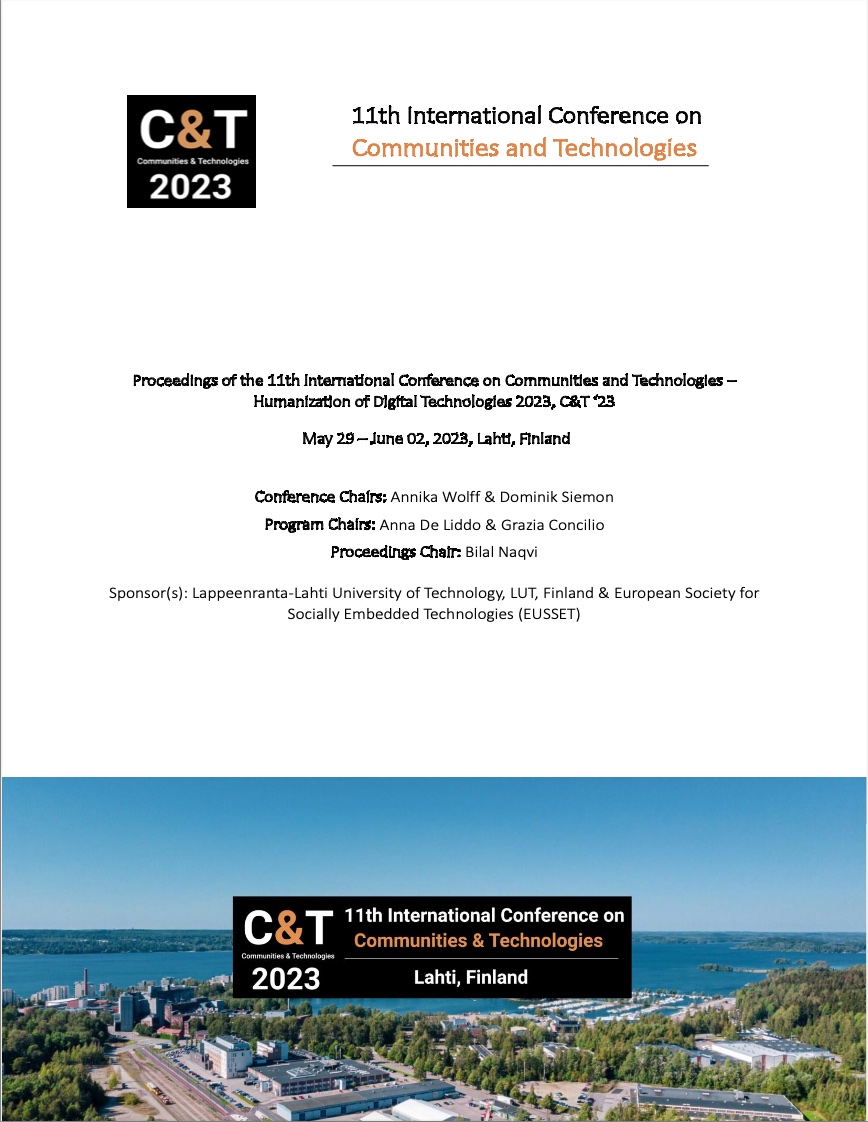 C&T 2023: Supplementary Proceedings of the 11th International Conference on Communities and Technologies
Authors with most documents
---
Recent Submissions
Vintage Meets Modern: A Retro-Inspired Audio Guestbook for Event Communication

(

Supplementary Proceedings of the 11th International Conference on Communities & Technologies,

2023

)

Cesário, Vanessa

For this Demos track, we created an audio guestbook using a repurposed 1970s telephone, which adds a nostalgic touch while providing a unique and interactive way for guests to leave recorded messages during an event. The use of a vintage telephone offers a contrast to modern recording devices, such as smartphones, and combines nostalgia with the convenience of technology. The audio guestbook allows guests to record short audio messages that can be played back later, providing a way for guests to express well wishes and share thoughts and memories. We believe this prototype has the potential to inspire the communities & technology community to think creatively about technology-mediated communication systems and provide valuable insights into social interactions and communication. Additionally, the design and usability of the audio guestbook, including the repurposed vintage telephone, can be evaluated to understand how to create an effective and user-friendly experience for guests.

Wearing a Hololens: A new dimension to remote presence in education

(

Supplementary Proceedings of the 11th International Conference on Communities & Technologies,

2023

)

Hahta, Sebastian

;

Teimouri, Maryam

;

Suovuo, Tomi

;

Auala, Selma

;

Rötkönen, Erkki

;

Mendes, Jason

;

Goagoses, Naska

;

Winschiers-Theophilus, Heike

;

Sutinen, Erkki

Based on a prior developed platform, we have implemented a Mixed Reality immersive 3D telepresence technology using Microsoft's Hololens. We have used this technology in a one week co-design workshop in Namibia, as well as in 3-day trial between Namibia and Finland, to explore and to derive future development strategies in regard to the technological capabilities as well as integration into educational systems. Participants can observe this system in operation and see how it works in practice with a Hololens 2 headset. The 3D capture part of the system will also be demonstrated in a proximate location.